Autumn brings a fresh crispness to the air that inspires outdoor festivities. There are plenty of fall festivals and family-friendly fun to be found in our area. Here are 17 things to do in October that are entertaining and offer family fun.  If there is something your family enjoys that is not included in this list, please share in the comments below.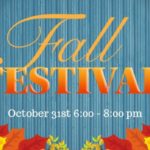 Date/Time
Thursday, October 31st
6:00 – 8:00 pm
Description
Children of all ages are invited out to wear costumes and collect candy. Enjoy free hot dogs, candy, games, Jupiter Jumps, and participate in a costume contest. We hope you can join us for this fun family event!
FREE Community Event
* Jupiter Jumps
* Games
* Jail
* Photo Booth
* Face Painting
* Candy
* Hot Dogs, Popcorn, Cotton Candy
* Costume Contest
* Karate Demonstration
* Balloon Artist
Cost
Free
Location
948 S 91stE Ave
Tulsa, OK 74112
Website
https://eastwoodtulsa.org/fall-festival
https://www.facebook.com/events/737643179905317/
PUMPKIN FESTIVAL AT SHEPHERD'S CROSS
Date/Time
Saturday, September 24 – November 9, 2019
Tuesday through Saturday 9:00 am – 6:30 p.m.
And – Monday by appointment
Closed Sunday
Description
Celebrate fall with pumpkins, hayrides and harvest educational activities at Shepherd's Cross, an authentic working farm and Christian mission in Claremore. Visit the farm and select a pumpkin, walk the hay maze, create a scarecrow, take a hayride, pet the animals in the petting zoo and make memories at the Pumpkin Festival at Shepherd's Cross. Enjoy lots of fun games and activities for the whole family while celebrating the harvest season.
Cost
Visits to the farm are donation based; no parking fee or admission fee.
Suggested donation is $5 per person.
Location
Shepherd's Cross
16792 E 450 Rd
Claremore, OK 74017
Phone: 918-342-8688
Website
http://www.shepherdscross.com
https://www.facebook.com/ShepherdsCross/
Date/Time
September21st – November 3rd, 2018
Description
Get lost in a 5-acre maze open both day and night! Experience the newest attractions: Thunder Mountain Slides, Critter Paintball, and Grain Train. Don't miss out on the most popular attractions: the cow train, pumpkin blaster, and giant jumping pillow. Pony or camel rides offered and campfire site reservations!
Cost
$$
Location
6060 S. Garnett Rd
Tulsa, OK 74146
Website
https://pumpkintownfarm.com
https://www.facebook.com/PumpkinTown
CARMICHAEL'S PUMPKIN PATCH
Date/Time
Opens in September for the season
Sunday 10 am-7pm, and Monday- Saturday from 9 am-7pm
Description
Your family has the opportunity to have great photo opportunities with pumpkins & scarecrows. Enjoy the animal farm where your kids can feed them for .50 a bag. Wagon Rides are $2.00 for kids and the parents ride free. A trip through the cane maze is $2.00 per person, Camel rides and Pony rides are $5.00 each. Purchase wonderful homemade fudge, candy, gifts, and Amish jams, jellies & more.
Cost
There is NO admission or Parking fee!
Location
17137 S Mingo Rd
Bixby, Oklahoma
Call (918) 366-4728
Website
https://www.facebook.com/Carmichaels-Pumpkin-Patch-130583043658966/
WASHINGTON IRVING FESTIVAL
Date/Time
October 26, 2019
12 p.m. – 4 p.m.
Description
The Washington Irving Festival is a free event open to the community. It is a day to enjoy food trucks, inflatables and carnival games.  As a special treat, young ones will be able to participate in Trunk or Treat so bring your bags for all the goodies.
Cost
FREE
Location
Washington Irving Memorial Park and Arboretum
13700 South Memorial Drive
Bixby, OK 74008
Website
http://bixbychamber.chambermaster.com/events/details/2019-washington-irving-festival-6377
Date/Time
October 12 – 13, 2019
Description
The Brush Creek Bazaar is an outdoor festival that has something for everyone. It is an "arts paradise" showcasing more than 80 craft vendors. Artists of wood, home decor, soap, jewelry, outdoor decor, metal, clothing, candles & much, much more.
This 3-day event also features live music of all genres from bluegrass & jazz, to contemporary & country, as well as clogging & other dance styles.
Enjoy a "kid zone extravaganza" awaiting all children with face-painting, a pumpkin patch, as well as other specialty activities for the children to enjoy!!!
Cost
$5 Adults
$3 Seniors
Children are FREE
Location
The Barn of Tulsa
10900 S Louisville Ave
Tulsa, Oklahoma 74137
Website
PLEASANT VALLEY FARMS WINTER SQUASH & PUMPKIN FEST
Date/Time
Saturday, October 12, 2019 9:00 a.m. – 8:00 p.m.
Sunday, October 13, 2019 9:00 a.m. – 8:00 p.m.
Description
This Winter Squash and Pumpkin Festival is more than a pumpkin patch! With tractor-drawn hay rides, 15-acre corn maze, a Punkin' Chunkin' cannon, 18-hole mini golf course, and more. This two-day festival is also complete with bluegrass music, hand-craft vendors and demonstrations, hand cranked corn sheller and grist mill, and barnyard animals.
Cost
Free entry
Location
Pleasant Valley Farms
22350 W. 71st St.
Sand Springs, OK
Website
https://www.facebook.com/pleasantvalleyfarmsok
http://www.pleasantvalleyfarmsok.com
Date/Time
Oct 25, 2019 to Oct 31, 2019
6:30 p.m. – 9:00 p.m.
Description
Once a year, for five nights only, the Oklahoma Aquarium opens its doors to trick-or-treaters of all ages to enjoy a safe, fun, indoor alternative to traditional Halloween activities. It's the only place around where visitors can shake hands with a friendly pirate or two and leave with the biggest bag of loot on dry land!
Cost
$7 for kids and $10 for adults (special member pricing)
Location
Oklahoma Aquarium
300 Aquarium Dr.
Jenks, OK 74037
Website
TALIHINA FALL FOLIAGE FESTIVAL
Date/Time
October 26, 2019
8:00 a.m. – 5:00 p.m.
Description
Make your way to Talihina in southeast Oklahoma for the annual Talihina Fall Foliage Festival. This event features arts and crafts, an art show, live entertainment, multiple food booths and an area dedicated to Choctaw heritage and culture.
A car show will be held at the Talihina High School New Gym, while all other events will be at the Talihina School Ag Building. Bring the kids to meet friendly alpacas and enjoy pony rides, then stick around for the Talihina Fall Foliage Festival's Wild West re-enactment. This re-enactment will feature shootouts within a Wild West town, complete with historical depictions of law breakers and peace makers. After the festival, go for a drive on the nearby Talimena Scenic Drive and throughout the surrounding area to enjoy the region's renowned bounty of stunning fall foliage.
Cost
$$
Location
Talihina School Ag Building
803 Railroad St
Talihina, OK 74571
Phone: 918-567-3434
Website
Date/Time
Oct 26 –  31, 2019
5:00 – 9:00 pm
Description
Grab your broomsticks and fly to HallowZOOeen, the Tulsa Zoo's premier spooky (but not-too scary) Halloween trick-or-treat event for the whole family. The zoo offers an alternative to traditional Halloween activities. Last year, more than 20,000 children had a safe place to enjoy the holiday during this fundraising event to support zoo operations.
Activities include Goblin Stops full of treats, carnival-style games in the Pumpkin Patch Playroom, special themed activities in both the Burger King Royal Castle and the QuikTrip Pirate Island, and much more
Cost
$9 for non-members and $8 for members. Haunted Train tickets are $5 and the Cross-Eyed Carousel is $1, both optional. Tickets can be purchased online or at the Tulsa Zoo.
Location
Tulsa Zoo
6421 E 36th St N
Tulsa, OK 74115
Phone: 918-669-6600
Website
https://tulsazoo.org/zoo-events/hallowzooeen/
https://www.facebook.com/tulsazoo
Date/Time
Saturday, October 26, 2019
7:50 a.m. – 12:00 p.m.
Description
From its humble beginnings in 1978 with a little over 1,000 runners the Tulsa Run has been a marquee event in the Tulsa Community. With over 150,000 finishers of the 15k race we want you to add your name to the list! With a 15k (9.3 miles), 5k (3.1 miles), and 2k (little over 1 mile) distance there is a race for every athlete and fitness goal. Join the Tulsa running tradition!
Cost
$$
Location
Downtown Tulsa
Start – Boulder Ave & 6th Street
Finish – Boston Ave in between 4th & 5th Street
Tulsa, OK 74103
Phone: 918-560-0215
Website
https://runsignup.com/Race/OK/Tulsa/TulsaRun
https://www.facebook.com/RunTulsaRun
We make every effort to ensure the accuracy of this information. However, you should always call ahead to confirm dates, times, location, and other information.
These are just a few of the fun festivals to visit to celebrate fall in our area. So load up your family and friends and have a good time.